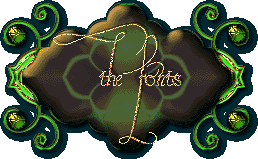 If you're reading this and
all you can see is the same standard
Windows issued font
and every line is a different size
(usually Times New Roman, Courier or Arial)
then you don't have the following fonts
used throughout The Jewellery Box.

And then come back to see what a
difference it makes!
Below is the name and an example of each font







To download, please click on the
banner below and unzip the .ttf files to
your Windows\fonts directory.




The above fonts are offered here as we believe them
to be freeware/shareware fonts. However, we would
like to give a special thank you to Klaus Johansen for
the beautiful Lewis F. Day 161 font. Klaus is also the
creator of some great dingbats and the Carmencita and
Tropicana fonts - equally ornate and a pleasure to use
for font addicts like us :)


kittsjewels@hotmail.com
visitors have been bejewelled!